EnJust 2020 - International workshop on Environmental Justice
Freiburg, Germany, 27 - 29 May 2020

For more information, visit the official page: EnJust Network for Environmental Justice
IMPORTANT: EnJust 2020 workshop postponed
It is with great disappointment that we need to inform you that this year's International EnJust 2020 Workshop in Freiburg will not take place.
The situation with COVID-19 has changed dramatically over the past weeks, across Europe and the world. To ensure the safety of participants and avoid further uncertainty about travel bookings, the EnJust 2020 team and the EnJust Network coordinators have jointly decided to postpone the May 2020 event.
This is a huge disappointment to all involved. After months of preparatory work, we were very much looking forward to an exciting conference program, with lots of highly topical and thought-provoking contributions. Given the severity of the corona virus outbreak, however, we don't see any other option than cancelling the event.
Our plan is to postpone the workshop by one year, so make sure to already reserve 19th to 21st May 2021 in your diaries! Those of you whose abstracts were accepted for this year's workshop will be first in line to present the contributions next year instead. We will be in touch with you later this year with further details on this process and hope that many, if not most, of this year's presenters will be able to join us in Freiburg in May 2021.
Reimbursement of registration fees
If you have already paid your registration fees, you will be reimbursed. To facilitate reimbursement, please send an e-mail with your full name, your banking details (IBAN, BICC, name of your bank) and your postal address to: enjust2020@geographie.uni-freiburg.de. Due to university administrative processes, we rely on you sending us the above details as we cannot simply return the fees to the accounts from which you transferred the money.
Confirmation of cancellation
If you need an official letter for insurance purposes stating that the event was cancelled by the organisers, please send an e-mail request to: enjust2020@geographie.uni-freiburg.de.
Please don't hesitate to get in touch with us if you have any other questions regarding the changed plans.
Stay well and safe and preserve some of your excitement about the workshop for 2021! We look forward to seeing you in Freiburg next year.
Coline Chardon, Hartmut Fünfgeld, Benedikt Schmid and all members of the EnJust 2020 organisational team in Freiburg // Florian Dünckmann, Jonas Hein, Silja Klepp, and all EnJust Network members in Kiel
March 2020 - Keynote by Isabelle Anguelovski
The EnJust 2020 Keynote by Isabelle Anguelovski is entitled "From the urban greening orthodoxy to green justice".
For more details on the keynote and the speaker please click on the image below.
February 2020 - Preliminary program
Here you find the preliminary program for the EnJust 2020 workshop. For more details please click on the image below. A detailed program containing all presentations and other activities will be released at the end of March. Please note that due to a high number of contributions we will not be able to consider individual availabilities or preferences in the planning process.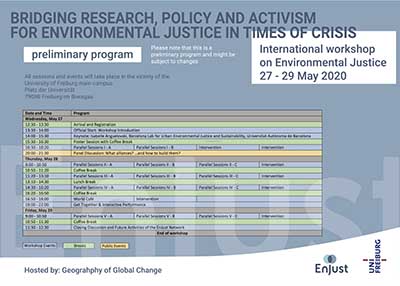 February 2020 - Workshop preparation and registration
We are happy to announce that we have received a large number of high-quality submissions for the EnJust 2020 workshop to take place in Freiburg from May 27-29. Aside from broad variety of paper presentations and posters, the programme will include a number of interventions and participatory formats. Furthermore, we are happy to annouce Isabelle Anguelovski as our keynote speaker.
As of February 15, it will be possible to register for the workshop. Please note that due to the limited room capacity of the workshop venue places for those without own contribution (paper, poster, or intervention) are limited.
To register, please use the following link: Registration for EnJust 2020 - International workshop on Environmental Justice. (Link will be activated on Feb 15).
Upon completing the registration, you will receive an email asking you to transfer the registration fee to the EnJust 2020 Bank account. Please note that registration is not complete until the full amount has been transferred (for bank details see email)
October 2019 - Call for contributions
In the face of the global multi-dimensional sustainability crises, questions of environmental justice have gained new momentum. During most of the 20th century issues of environmental justice revolved primarily around local impacts of air pollution, contamination of soils and water bodies with toxic substances and exposure of socially or economically marginalized groups to environmental hazards. More recent environmental justice concerns have expanded in space and time. There is increasing acknowledgement of the complexity of environmental justice in the Anthropocene, spanning different spatial scales and pertaining to justice-related questions about the present as well as the near and far future. This includes, but is not limited to, processes of the degradation of our global commons and their local effects; dispersed, yet structurally comparable struggles for survival of indigenous groups; and injustices as a result of local-to-global-scale policies and regulations designed as a response to environmental crises.
In light of this situation of fragmented but systemic exploitation and degradation, we would like to use the forum of the EnJust workshop to discuss the role of the environmental justice movement which we understand to be an inclusive and diverse community. In particular, we hope to generate debate on how new alliances, connected and inclusive approaches, and innovative methods may be used to contribute towards greater concern for justice issues in the context of environmental crises. Complexity, uncertainty and plurality create amalgamations between once distinct domains of knowledge and action as well as formerly unrelated fields of environmental justice work: activists become researchers with access to critical inside information, policy-makers co-produce knowledge jointly with scientists, and academics have a desire to – or are forced to – leave the ivory tower to engage in, as well as study, the politics of environmental degradation in order to contribute to more just futures.
This workshop, collaboratively organized by the Institute of Environmental Social Sciences and Geography at the University of Freiburg and the EnJust Network for Environmental Justice, aims at fostering debate and learning processes about the roles, responsibilities and approaches of the emerging inter- and transdisciplinary environmental justice movement composed of scholars, activists and decision-makers.
The workshop will bring together individuals from these groups, who self-identify with the environmental justice movement, in order to critically engage with current research, concrete ideas, practices, and methods for bridging the divides between environmental justice research and practice, between activism and scientific study, and between collective and individual decision-making. It will provide a space to collectively explore and deepen transdisciplinary work and activist-research for a more just and fairer future.
We invite researchers, activists, planners and policy-makers from academic, governmental and non-governmental organizations to submit their ideas for contributions at the workshop, in line with the abovementioned themes. Topics might include, but are not limited to:
Potential and challenges of transdisciplinary work

Participatory and activist research

Artistic research and the role of art-based approaches

Environmental justice and policy-making

New municipalism and urban politics

(Local) coalitions for environmental justice

Struggles of indigenous communities
…
Contributions should be submitted as an abstract for a 'traditional' conference paper, a poster or an intervention of up to 400 words by 31 October 2019 Deadline extended to 8 November 2019
to enjust2020@geographie.uni-freiburg.de. Please mark clearly at the top of your abstract which of the following three contributions your abstract refers to:
Papers should highlight a current or recent research or practice project and include a discussion of both methods/approaches and (preliminary or final) results.

Posters, in addition to presenting current or recent initiatives, may also focus on research or practice ideas and projects still at the planning stage.

Interventions should contain an interactive element, such as presenting and discussing audiovisual or artistic material.
We look forward to hearing from you!
If you have any questions, please feel free to contact us at:enjust2020@geographie.uni-freiburg.de
Notification of selected papers will be sent by December 2019. lf your paper abstract is accepted, we will ask you to send a short paper for pre-circulation to session organizers by 15 April 2020. We envisage publishing some of the contributions as a special issue and/or another type of publication.
The workshop fee will be €80. A reduced fee of €40 is available for students, including PhD students. Participants with limited travel budget are strongly encouraged to submit their abstracts. We will be able to reimburse travel costs and accommodation for a limited number of participants.