Geography - Intersection between Human and Nature
Geography is a scientific discipline that combines ecological with sociological approaches and methods. With its integrative understanding, geography is particularly well placed for examining and understanding current trends such as global change, its process dynamics and the associated changes in the environment as well as in society. Geographic research is particularly concerned with investigating socio-spatial disparities and environmental destruction. At the heart of geographic research lies the motivation to better understand space-related stressors and conflicts taking place on different scales. Beyond analyzing complex problems, geographers also contribute to devising practical solutions.
At the University of Freiburg, the "Bachelor's Degree Programs" in geography encompass a broad-based foundation in geographic thought and analysis, including natural and social science perspectives. The "Master's Degree Program" emphasizes key research areas of geographers based at the University of Freiburg. It strives to provide students not only with relevant theoretical perspectives but also with broad methodological competencies and skills for applied research and practical work.
We invite you to find out more about studying geography at the University of Freiburg! Further information about our staff, their profiles and research priorities, as well as current projects, publications and events, can be accessed via the menu bar on the left.
News
---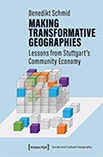 Benedikt Schmid received the VGDH Dissertation Award in Human Geography for his dissertation entitled "Making Transformative Geographies: Lessons from Stuttgart's Community Economy". The thesis examines the role of socio-ecological organisations in overcoming orientations focusing on economic growth from a spatial perspective. The thesis was supervised by Prof Christian Schulz and carried out at the Department of Geography and Spatial Planning at the University of Luxembourg. Prof Tim Freytag and Dr Gerald Taylor Aiken (Luxembourg Institute of Socio-Economic Research) were also involved in the supervision. Benedikt Schmid has been a postdoctoral academic staff member at the Chair of Geography of Global Change, University of Freiburg, since 2019.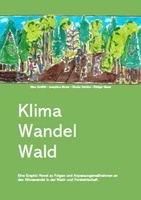 The M.Sc. students Ellen Schäffel and Josephine Binder have analyzed climate change impacts and adaptation strategies in the forestry and timber industry as part of the project study "Climate Vulnerability and Adaptive Capacity of Companies in the Tri-National Metropolitan Region Upper Rhine". Supported by Nicolas Scholze and Rüdiger Glaser, the results have now been published for the first time in the form of a graphic novel. The goal of this innovative communication format is to sensitize young people with comic-like drawings and informative texts for this highly relevant and multi-layered topic. The graphic novel is available on
FreiDok plus
as a pdf, the printed version can be obtained from the secretariat (Susana Ginés).